FAMILY
YES-MINDED APPROACH
We look for what is possible and find creative solutions, transforming challenges into viable opportunities.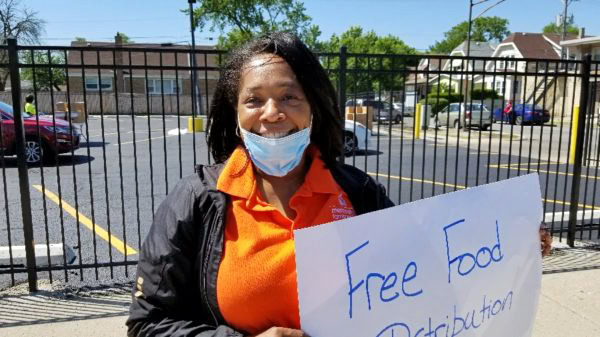 AUDRENA SPENCE
EXECUTIVE DIRECTOR, METROPOLITAN CALUMET
---
Audrena Spence and her team of dedicated staff distributed food for 2,042 households at the Calumet Center on three subsequent Fridays in June.
They partnered with the Greater Chicago Food Depository and local elected officials. Staff and volunteers were mobilized, and they set up in a nearby parking lot to offer fresh produce and other food items.
This effort provided critical access for a community facing barriers related to food insecurity and transportation.
---
Learning from check-ins with senior clients that isolation was a key issue facing the community,

Carrie Pullie, Program Director at our Calumet Center's Altgeld Gardens site, put together a way to stay connected: BINGO! with cleaning supplies as prizes.

Calling out numbers over Zoom looked so fun, Carrie's staff started playing their own games during staff meetings.

Food insecurity is an issue our Altgeld Youth Leadership Program youth care about.

During monthly Food Distribution Events, they offer donated nonperishables – and smiling faces – to their neighbors in need.